75PUS8506/12 4K UHD LED Android TV Philips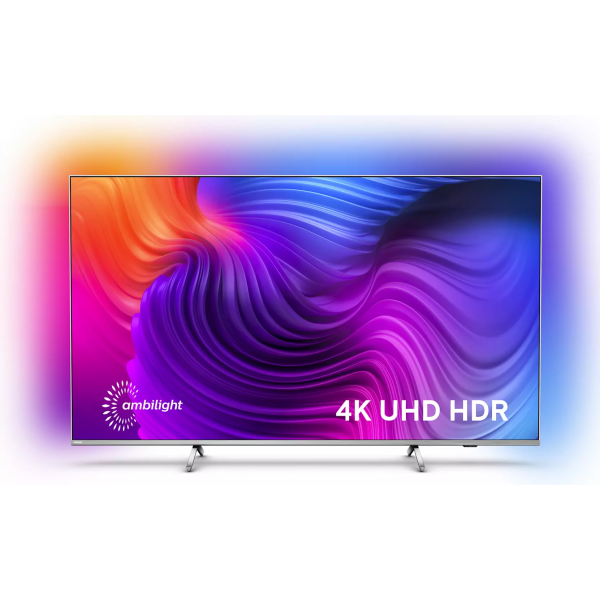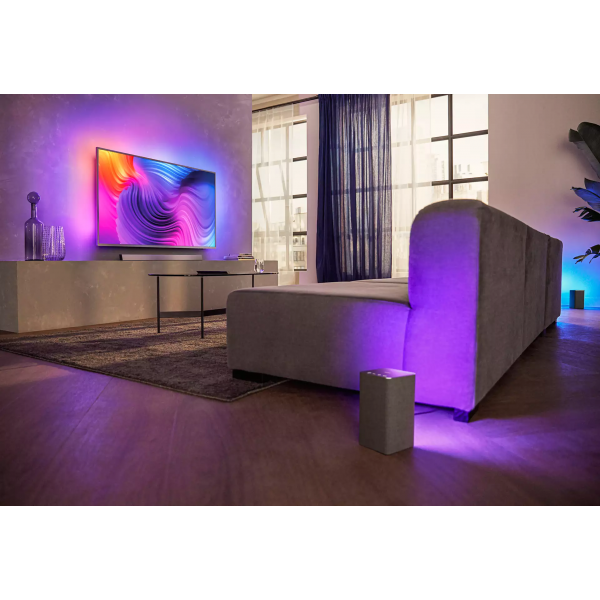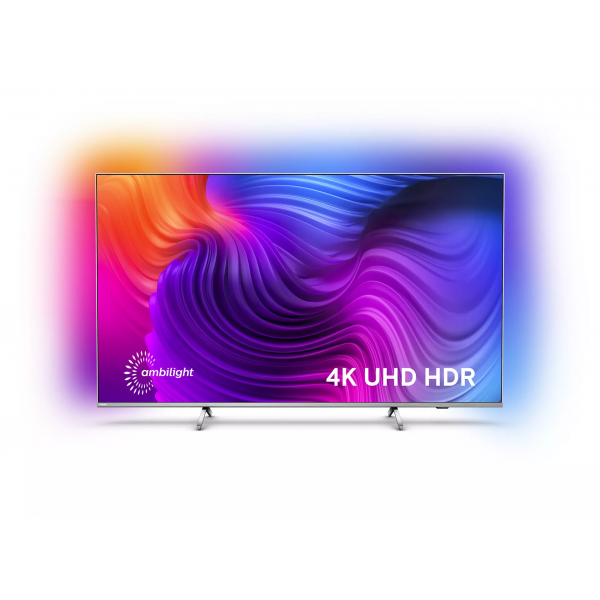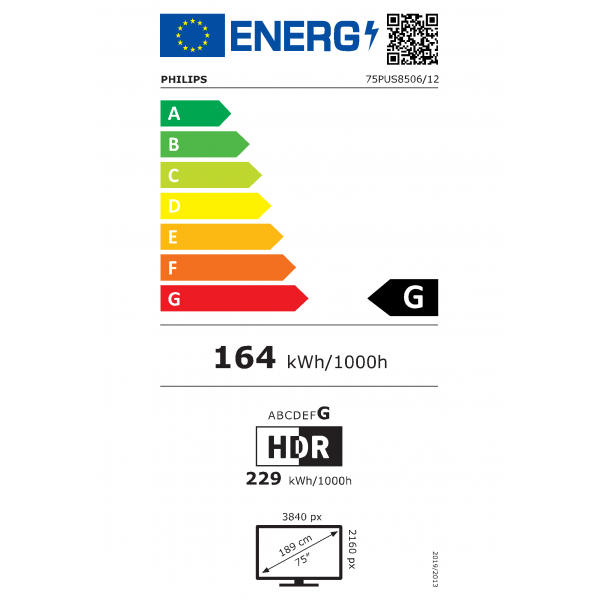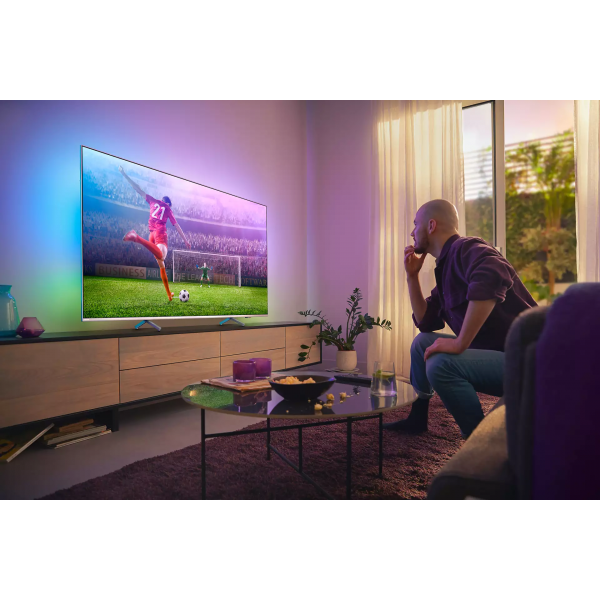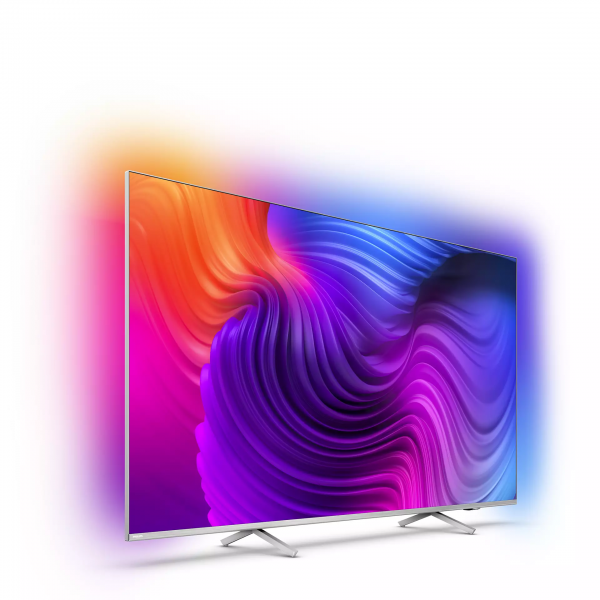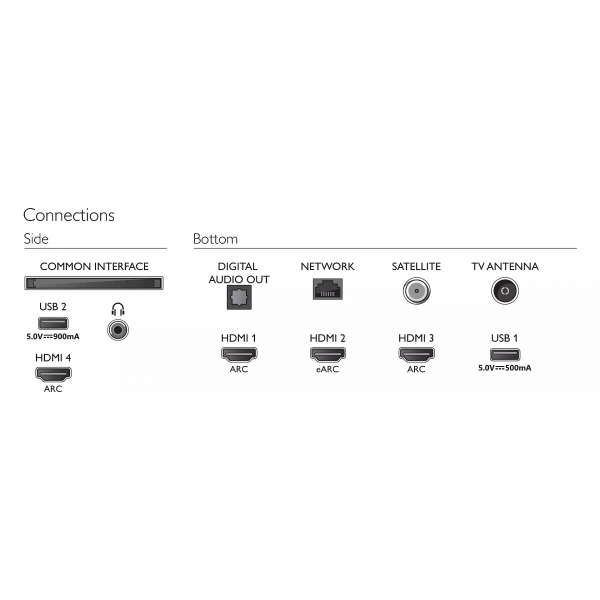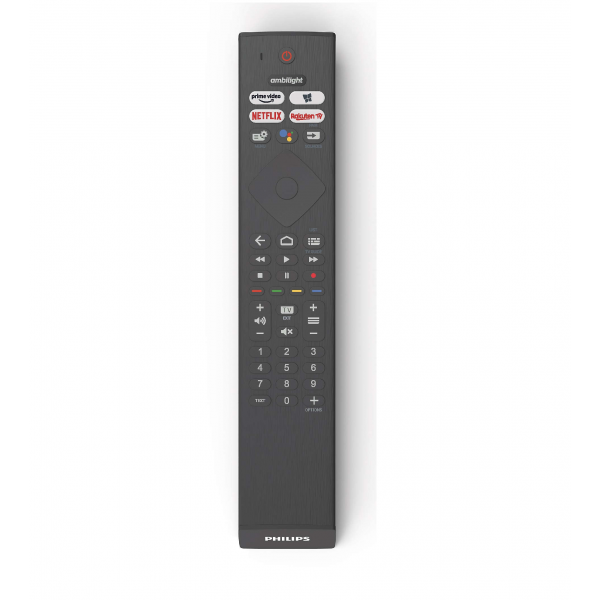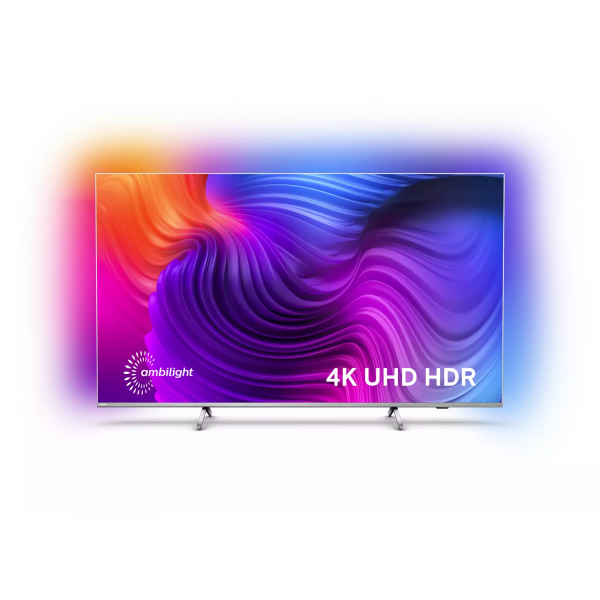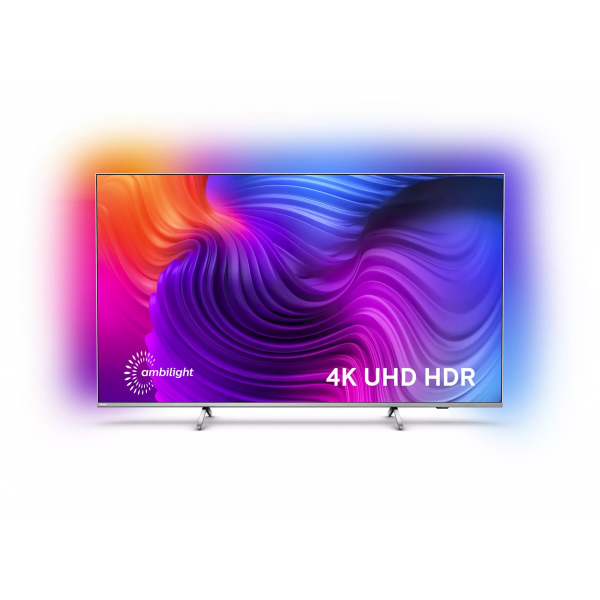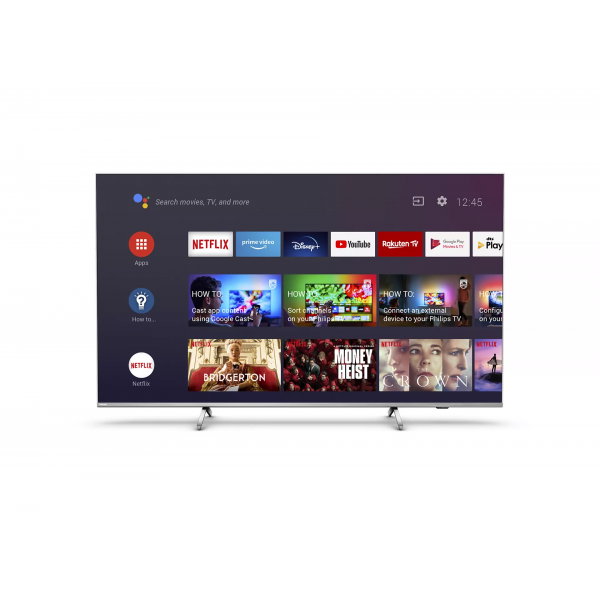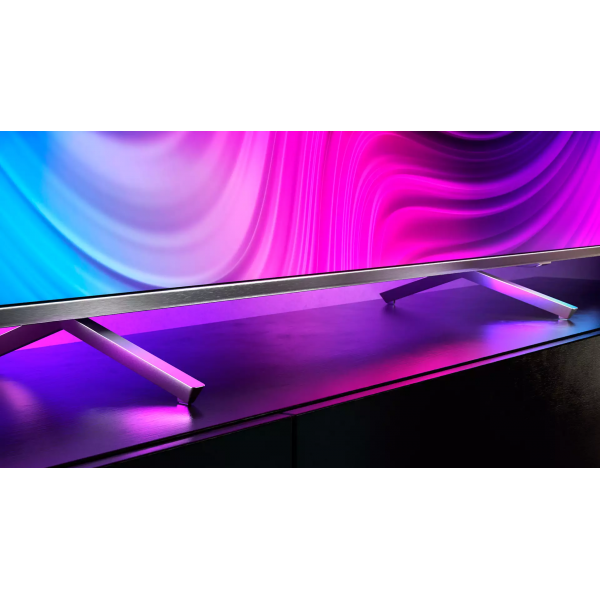 75" UHD | ANDROID TV | metal & central base | Ambilight 3 | P5 Picture Engine | HDMI 2.1 VRR low latency | Dolby Vision & Atmos | DTS Play-Fi
Het was nog nooit zo eenvoudig om uw nieuwe TV te kiezen. Wilt u uitmuntende beeld- en geluidskwaliteit, praktische connectiviteit en een responsieve, gebruiksvriendelijke gaming-ervaring? Kies dan voor The One. U profiteert ook nog eens van Ambilight voor een ongekend meeslepende ervaring
4K UHD LED Android TV met Ambilight
TV met 3-zijdige Ambilight

Voornaamste HDR-indelingen ondersteund

P5 Perfect Picture Engine

Android TV van 189 cm (75")
De TV met magische Ambilight. Alleen van Philips.
Met Philips Ambilight voelt alles dichterbij. Intelligente LED's rondom de rand van de TV reageren op de actie op het scherm en stralen een meeslepende gloed uit die gewoonweg betoverend is. Nadat u het één keer hebt ervaren, zult u zich afvragen hoe u ooit zonder hebt gekund bij het TV-kijken.
Beeld en geluid van bioscoopkwaliteit. Dolby Vision en Dolby Atmos
Dankzij de ondersteuning voor Dolby's eersteklas geluid en video-indelingen ziet HDR-content er fantastisch uit en klinkt het fantastisch. U geniet van een beeld dat de originele bedoelingen van de regisseur weerspiegelt en geniet van ruimtelijk geluid met echte helderheid en diepte.
De TV die gewoon slim is. Android TV
Uw Philips Android TV biedt u de content die u wilt, wanneer u maar wilt. U kunt het startscherm aanpassen zodat het uw favoriete apps weergeeft. Zo kunt u eenvoudig uw lievelingsfilms en -programma's bekijken of verdergaan waar u was gebleven.
Wat de bron ook is, altijd perfect. Philips P5-engine.
De Philips P5-engine levert beelden die net zo briljant zijn als uw favoriete content. Details hebben merkbaar meer diepte. Kleuren zijn levendig en huidtinten zien er natuurlijk uit. Het contrast is zo helder dat u elk detail haast kunt voelen. Beweging is perfect vloeiend.
De TV met levendige HDR-beelden. Philips 4K UHD-TV.
Uw Philips 4K UHD-TV is compatibel met alle gangbare HDR-indelingen, waaronder Dolby Vision. Of u nu een populaire serie bekijkt of de nieuwste videogame speelt: schaduwen zijn dieper, heldere oppervlakken stralen en kleuren zijn levensecht.
De TV voor multi-room audio. Compatibel met DTS Play-Fi
Met DTS Play-Fi op uw Philips-TV kunt u in elke kamer verbinding maken met compatibele luidsprekers. Hebt u draadloze luidsprekers in de keuken? Luister naar de film terwijl u een snack maakt of blijf op de hoogte van het sportcommentaar terwijl u voor iedereen een drankje inschenkt.
De TV voor gamers. Lage latentie op elke console.
Uw Philips-TV beschikt over de nieuwste HDMI 2.1-connectiviteit en de TV schakelt automatisch over naar een lage latentieinstelling wanneer u een game op uw console gaat spelen. VRR wordt ondersteund voor vloeiende, snelle gameplay. De gamemodus van Ambilight brengt de sensatie naar uw huiskamer.
Spraakbediening. De Google Assistant. Werkt met Alexa.
Druk op een knop op de afstandsbediening om te praten met de Google Assistant. Bedien de TV of Smart Home-apparaten die compatibel zijn met Google Assistant met uw stem. Of vraag Alexa om de TV te bedienen via apparaten die geschikt zijn voor Alexa.
Belangrijkste HDR-indelingen. Zie het zoals de regisseur het bedoelde.
Uw Philips-TV is speciaal ontworpen om alles uit het HDR10+ video-format te halen. De contrast-, kleur- en helderheidsniveaus worden voor elk frame aangepast. Of u nu een populaire serie of de nieuwste blockbuster kijkt, schaduwen zijn dieper, heldere oppervlakken stralen en kleuren zijn nog levensechter. Dolby Vision en Dolby Atmos. Beeld en geluid zoals in de bioscoop.
Slank, aantrekkelijk ontwerp
Bent u op zoek naar een TV die bij uw kamer past? Het vrijwel randloze scherm van deze 4K Smart TV past in vrijwel elk interieur. Door de slanke voetjes lijkt het alsof het scherm boven uw TV meubel zweeft en kunt u de voeten breder instellen om ruimte te maken voor langere SoundBars.
Aansluitingen
Aantal HDMI-ingangen
4
Aantal USB-poorten
2
CI+ ingang
Ja
HDMI Audio Return Channel (ARC)
ARC
Hoofdtelefoonaansluiting
Ja
Afspeelmogelijkheden
Smart TV
Ja
Smart TV platform
Android TV
Algemeen
Type TV
UHD
Audio
Surroundformaten
Dolby Atmos
Uitgangsvermogen (totaal)
20
Bediening
Afstandsbediening
Ja
Connectiviteit
Bluetooth
Ja
Bluetooth-versie
5.0
Wi-Fi
Ja
Wi-Fi-standaarden
Wi-Fi 802.11ac (Wi-Fi 5)
Energieverbruik
Energieklasse
G
Energieverbruik in HDR-modus per 1000u
229
Energieverbruik in SDR-modus per 1000u
164
Fysieke kenmerken
Diepte
8,41
Diepte (met tafelvoet)
36,06
Gewicht met voet
32,8
Gewicht zonder voet
31,6
Hoogte
96,01
Hoogte (met tafelvoet)
103,06
Kleur
Zilver
VESA montage
Ja
VESA-standaard
300 x 300
Opslag
Opslagcapaciteit
16
Processor
Processor
Quad core
Scherm
Ambilight
Ja
Beelddiagonaal (cm)
189
Beelddiagonaal (inch)
75
HDR-formaten
Dolby Vision
HDR-ondersteuning
Ja
Schermresolutie
3840 x 2160 (Ultra HD 4K)
Stroom
Aantal batterijen meegeleverd
2
Batterijtype
AAA
TV-tuners
Ether (DVB-T)
Ja
Ether (DVB-T2)
Ja
Kabel (DVB-C)
Ja
Satelliet (DVB-S2)
Ja