KCL95.004SI Cooking Chef XL Kenwood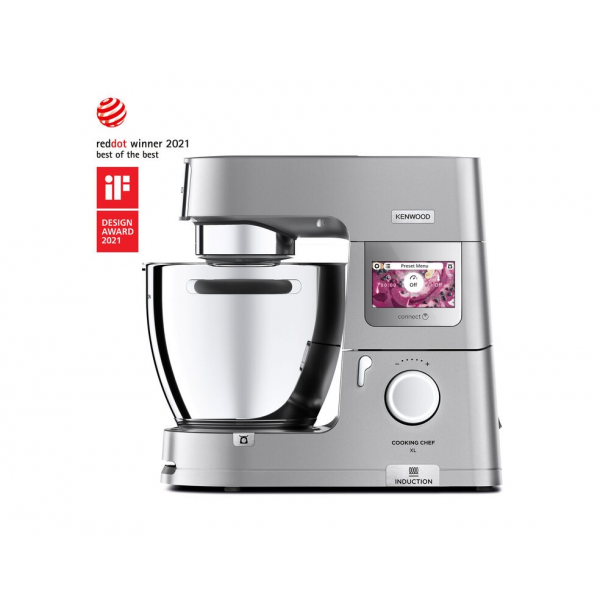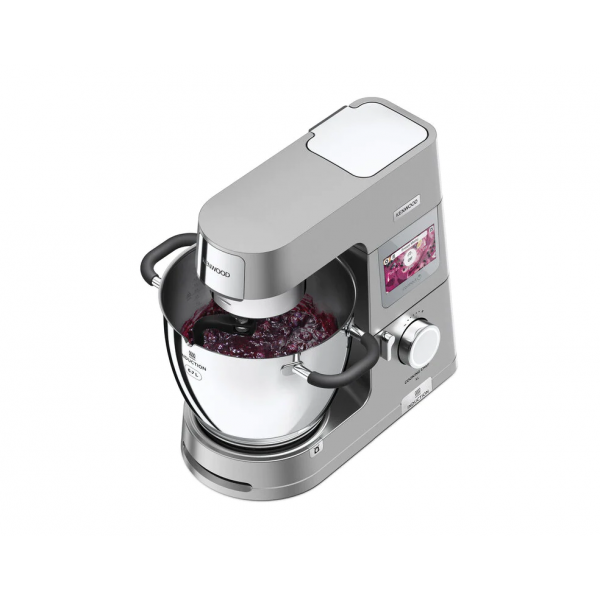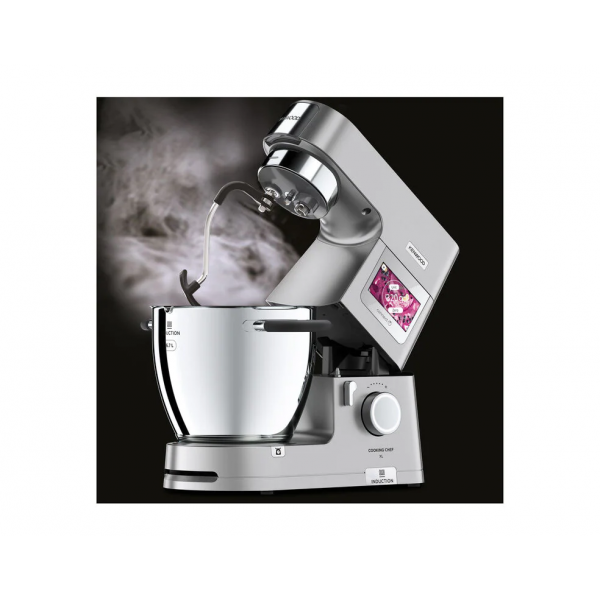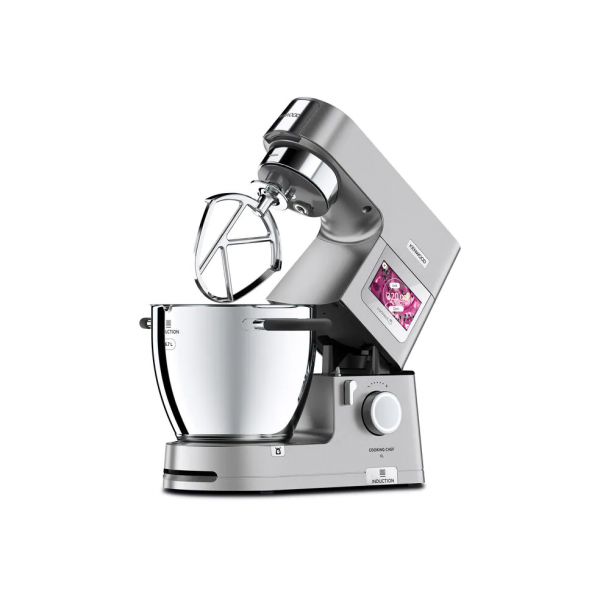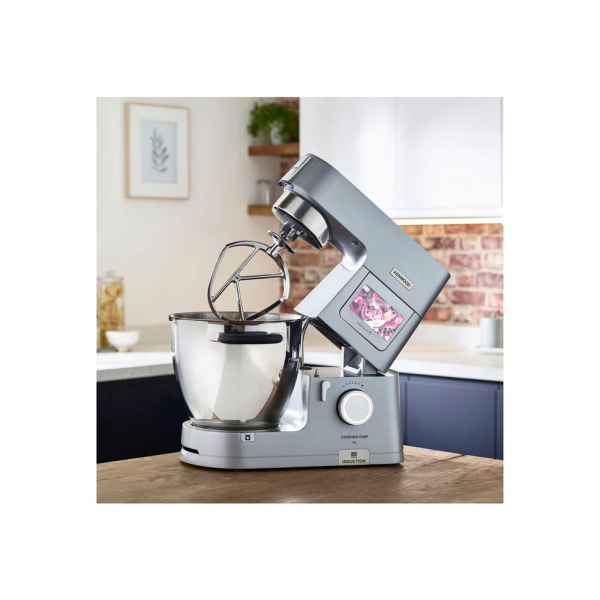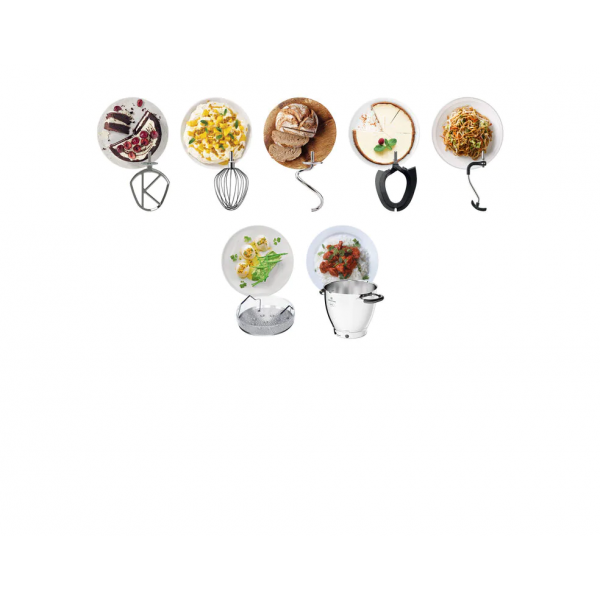 Ontvang tot €390 aan accessoires cadeau.






1500W, SILVER, 6,7lt SS BOWL WITH HANDLES, INDUCTION HEATING 20°C-180°C, 5 BOWL TOOLS (K beater, whisk, spiral dough tool, creaming beater & stir tool), STEAMER, Intuitive full colour 4,3" touch screen, 13 pre-set functions, integrated weighing, Connected to Kenwood World App
Wegen, bakken en koken. Onze meest geavanceerde Chef ooit. Stap per stap recepten rechtstreeks naar je keukenrobot, ultieme temperatuurregeling tot 180° met inductieverwarming en nauwkeurige EasyWeigh™-weegschalen. Alle vrijheid om te koken en te creëren.
ONGEËVENAARDE MATE VAN PRECISIE
Met de inductieverwarmingstechnologie kun je de temperaturen regelen van 20-180° in nauwkeurige stappen van 1°. De Cooking Chef XL is de perfecte partner voor uiterst delicate bewerkingen, zoals chocolade tempereren, maar ook voor het bereiden van heerlijke roerbakgerechten.
BESPAAR TIJD EN ROMMEL
Weeg de ingrediënten rechtstreeks in de mengkom.  De weegschalen werken ook met de optionele accessoires, je kan dus ook rechtstreeks wegen in de blender, food processor of sapcentrifuge als die bevestigd zijn. Geen rommel, geen gedoe.
NAUWKEURIGE RESULTATEN BINNEN HANDBEREIK
Moeiteloze expertise De Cooking Chef XL is supermakkelijk te bedienen dankzij het intuïtieve CookAssist™  4.3" touchscreen. Met een druk op het scherm zet je de weegschaal op nul en bedien je de timer, stel je roerintervallen, temperatuur en voorgeprogrammeerde functies in.  Ontdek stap per stap recepten via de app. Alles binnen handbereik, in één oogopslag.
CONNECTEREN MET KENWOOD WORLD
Ontdek zoete en hartige recepten van over de hele wereld. Tik op de Kenwood World-app en stuur instructies rechtstreeks naar de keukenrobot. Cooking Chef XL doet het zware werk en jij voegt je creatieve toets toe.
Betrouwbare EasyClean tools
Onze kenmerkende K-Klopper wordt meegeleverd, samen met nog twee roestvrijstalen tools: een deeghaak en een garde. Plus een flexiklopper. Pak elke taak met vertrouwen aan. Ze zijn allemaal vaatwasbestendig, maar ook eenvoudig met de hand te reinigen.
Breid je Chef uit
Breid jouw creativiteit uit met ons assortiment van 25 optionele accessoires. Dankzij het hoge- en lage snelheidsaandrijfpunt kun je blenden, snijden, pasta maken, raspen, slow juice maken... alles tot in de perfectie.
Prachtige resultaten
Maak gebruik van de 13 SimpleTouch-voorinstellingen voor het vakkundig afgehandelde taken. Je hebt de keuze uit kneden, Italiaanse en Zwitserse meringue, deeg rijzen, slow cook, stomen, een eenpansmaaltijd en nog 7 andere opties.
Voelt heel licht aan
De unieke LightLift-kop maakt het eenvoudig om ingrediënten aan je mix toe te voegen. Trek gewoon aan de hendel en stop ze erin. Geen inspanning nodig.
Accessoires
Citruspers meegeleverd
Ja
Deeghaak/kneedmes meegeleverd
Ja
Foodprocessor meegeleverd
Ja
Klopper/Garde meegeleverd
Ja
Pastapers meegeleverd
Ja
Functies
Mixfunctie
Ja
Raspfunctie
Ja
Timerfunctie
Ja
Fysieke kenmerken
Antislipvoetjes
Ja
Breedte
51
Diepte
36,5
Gewicht
10,4
Hoogte
66,5
Inhoud kom
6,7
Kleur
Zilver
Materiaal
Roestvrij staal (RVS)
Gebruiksgemak
Met scherm
Ja
Onderhoud & Reiniging
Vaatwasbestendige onderdelen
Ja
Stroom
Vermogen
1500
Verwarmen
Maximum temperatuur
180
Minimum temperatuur
20