65PML9308/12 The Xtra 4K Ambilight TV 65inch Philips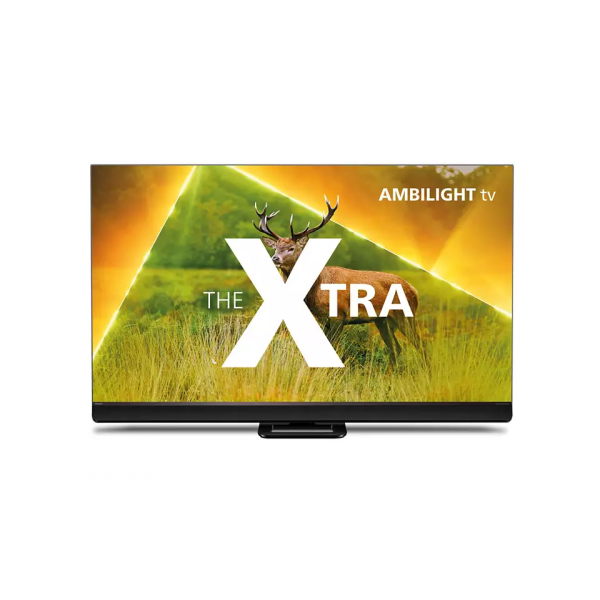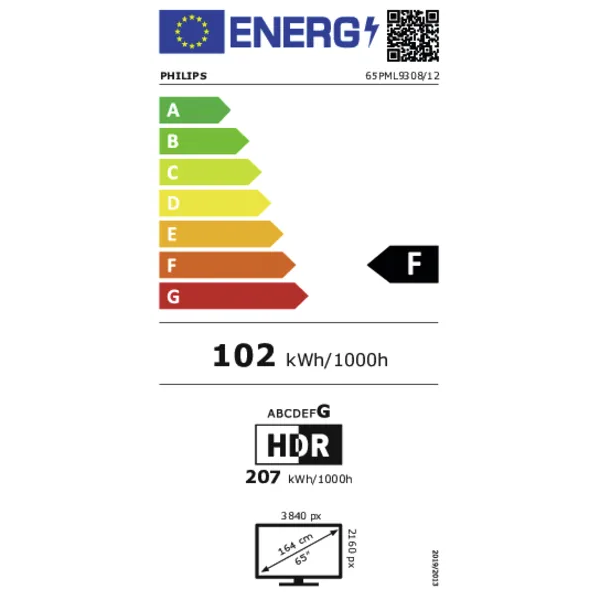 65PML9308/12 The Xtra 4K Ambilight TV 65inch Philips
65" UHD THE XTRA MiniLED Bowers & Wilkins | PHILIPS Smart TV | 120hz | Ambilight 3 | P5 Perfect Picture| 64W RMS | Central stand with swivel | HDMI 2.1 VRR FreeSync Premium low latency
Ga voor de complete ervaring
Kijk het, speel het, voel het! Het grote, heldere en felgekleurde beeld gaat samen met Ambilight en gebuild van Bowers & Wilkins voor een levensgrote ervaring. Wordt het spel intensief? De Xtra Ambilight-TV houdt het bij
Ga volledig op in uw favoriete content. Ambilight TV.
Ambilight TV's zijn de enige TV's met LED-verlichting achter het scherm die reageren op waar u naar kijkt en u onderdompelen in kleurrijk licht. Ambilight TV verandert alles: uw TV lijkt groter en u beleeft uw favoriete series, films en games nóg intenser.
De meest meeslepende ervaring op een scherm.
Waar je ook naar kijkt, de mini-LED-technologie van The Xtra geeft je een indrukwekkend beeld met diep zwart, haarscherp contrast en levensechte kleuren. Bovendien werkt deze 4K UHD Ambilight TV met alle belangrijke HDR-formaten en bronnen, zodat je meer details ziet, zelfs in donkere en lichte gebieden.
Legendarisch geluid van Bowers & Wilkins
Ga helemaal op in het rijke, kamervullende geluid! Een geïntegreerd "Frontal Sound System" geluidssysteem van audiolegendes Bowers & Wilkins heeft voorwaarts gerichte luidsprekers voor helder, gedetailleerd geluid dat op u is gericht. Een (rear-firing) subwoofer voegt ongelooflijke diepte toe aan effecten en muziek.
Wat u ook bekijkt, altijd perfect. Philips P5-engine.
De Philips P5-engine levert een beeldkwaliteit zoals u die wenst bij uw favoriete content. Details hebben merkbaar meer diepte. Kleuren zijn levendig en huidtinten zien er natuurlijk uit. Het contrast is zo helder dat u elk detail haast kunt voelen. Bewegende beelden zijn perfect vloeiend.
Beeld en geluid van bioscoopkwaliteit. Dolby Vision en Dolby Atmos.
Met Dolby Vision en Dolby Atmos klinken uw films, programma's en games fantastisch. Zie het beeld zoals de regisseur het u wilde tonen: geen scènes die te donker zijn om iets goed te zien! Hoor elk woord helder en duidelijk. Ervaar geluidseffecten ruimtelijk alsof ze echt om u heen gebeuren.
Premium ontwerp. Klaar voor de toekomst.
Dankzij de draaibare voet is de TV gemakkelijk neer te zetten in de beste kijkhoek. De ultradunne metalen rand is afgewerkt in antraciet, wat goed past bij de donkere Kvadrat akoestische stof die de luidspreker bedekt. Voor de verpakking van onze tv's wordt FSC-gecertificeerd gerecycled karton gebruikt en voor ons drukwerk wordt gerecycled papier gebruikt.
Philips Wireless Home System (draadloos geluidssysteem) met DTS Play-Fi
Met Philips Wireless Home System met DTS Play-Fi kun je in een paar seconden verbinding maken met compatibele soundbars en draadloze luidsprekers in je hele huis. Luister naar films in de keuken. Speel overal muziek af.
Episch gamen. 120 Hz, zeer lage latentie. G-sync, VRR, Freesync
Gamen kent geen grenzen met de prachtige kleuren van Xtra! HDMI 2.1, een razendsnelle 120 Hz native verversingsfrequentie en een zeer lage invoervertraging halen het beste uit de nieuwste game-uitrusting. Geniet van soepele, responsieve gameplay, supervloeiende, natuurlijke bewegingen en prachtige graphics. De gamemodus van Ambilight zorgt voor nóg meer sensatie.
Spraakbediening. Werkt met Google Assistent* en Alexa*
Wilt u deze TV bedienen via spraakassistenten? Dat kan! Koppel uw TV met uw Google-smartspeaker en vraag Google Assistant om de TV te bedienen en programma's en films te zoeken. Of koppel met Alexa-apparaten en vraag Alexa!
MiniLED. Intelligente verlichtingszones (backlight). Ongelooflijk contrast.
MiniLED. Intelligente verlichtingszones (backlight). Ongelooflijk contrast.
Ondersteunt alle belangrijke HDR-indelingen
Ondersteunt alle belangrijke HDR-indelingen.
Ga direct naar wat u leuk vindt. Philips Smart TV.
U vindt het snel met ons nieuwe Smart TV-platform. Geniet u van een serie? U kunt rechtstreeks vanuit het startscherm blijven kijken. Als u op zoek bent naar iets nieuws, kunt u op door categorieën bladeren, zoals actie of drama, en suggesties van de beste streamingservices bekijken, alles op één plek.
Aansluitingen
Aantal HDMI-ingangen
4
Aantal optische uitgangen
1
Aantal USB-poorten
3
CI+ ingang
Ja
HDMI Audio Return Channel (ARC)
eARC
Netwerkaansluiting
Ja
Afspeelmogelijkheden
Smart TV
Ja
Algemeen
Type TV
LED
Audio
Surroundformaten
Dolby Atmos
Uitgangsvermogen (totaal)
64
Bediening
Afstandsbediening
Ja
Koppeling met app
Ja
Smart home platform
Amazon Alexa
Connectiviteit
Bluetooth
Ja
Bluetooth-versie
5.0
Wi-Fi
Ja
Wi-Fi-standaarden
Wi-Fi 802.11ac (Wi-Fi 5)
Energieverbruik
Energieklasse
F
Energieverbruik in HDR-modus per 1000u
207
Energieverbruik in SDR-modus per 1000u
102
Fysieke kenmerken
Breedte
145,2
Diepte
11,1
Diepte (met tafelvoet)
30,7
Gewicht met voet
23,2
Gewicht zonder voet
19,2
Hoogte
89,1
Hoogte (met tafelvoet)
91,70
Kleur
Zwart
VESA montage
Ja
VESA-standaard
300 x 300
Processor
Processor
Dual-Core
Scherm
Beelddiagonaal (cm)
164
Beelddiagonaal (inch)
65
Beeldverversing (paneel)
120
HDR-formaten
Dolby Vision
HDR-ondersteuning
Ja
Schermresolutie
3840 x 2160 (Ultra HD 4K)
Stroom
Aantal batterijen meegeleverd
2
Batterij meegeleverd
Ja
Batterijtype
AAA
TV-tuners
Ether (DVB-T)
Ja
Ether (DVB-T2)
Ja
Kabel (DVB-C)
Ja
Satelliet (DVB-S2)
Ja