77OLED908/12 4K Ambilight TV-Bowers & Wilkins sound 77inch Philips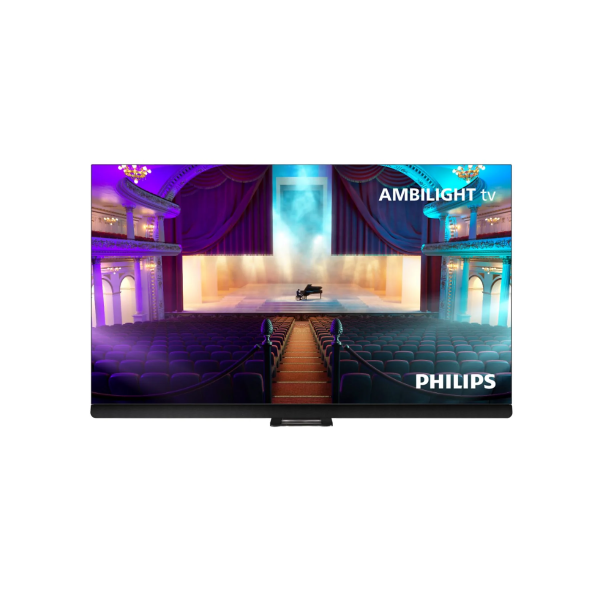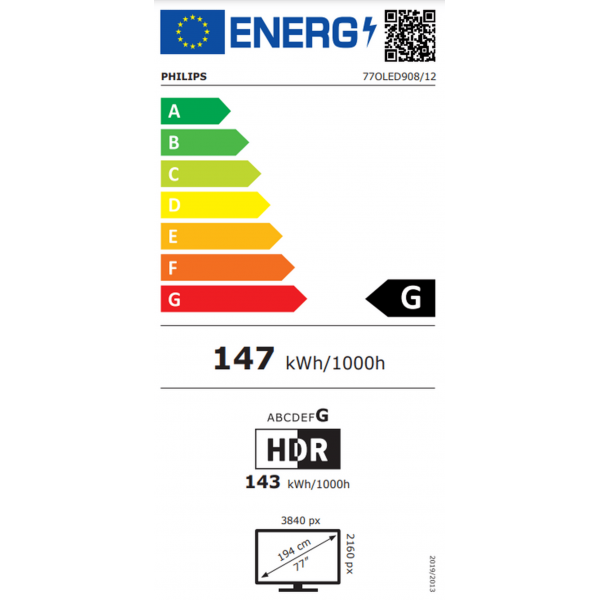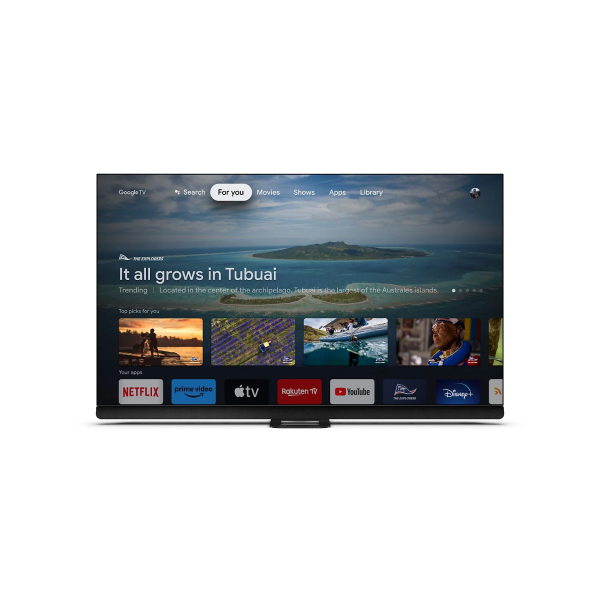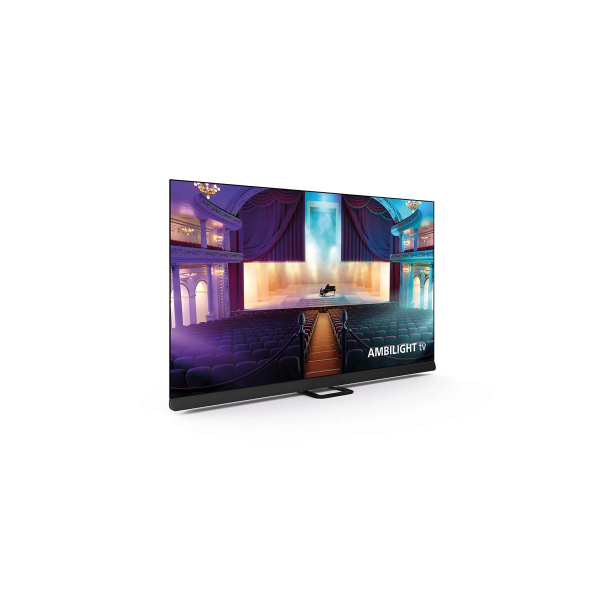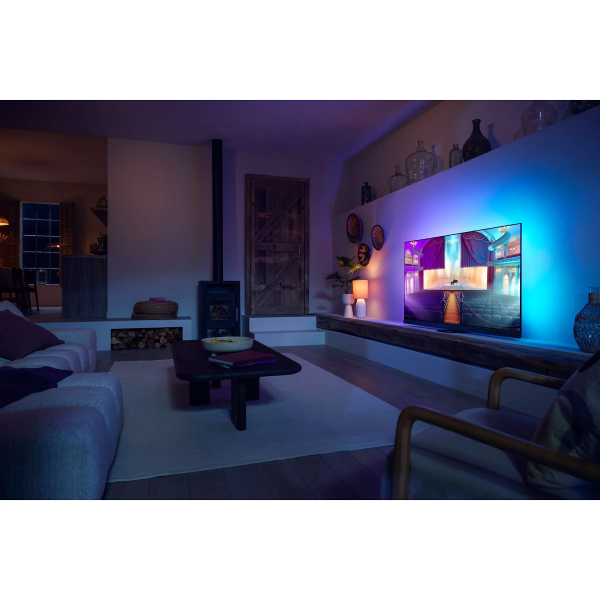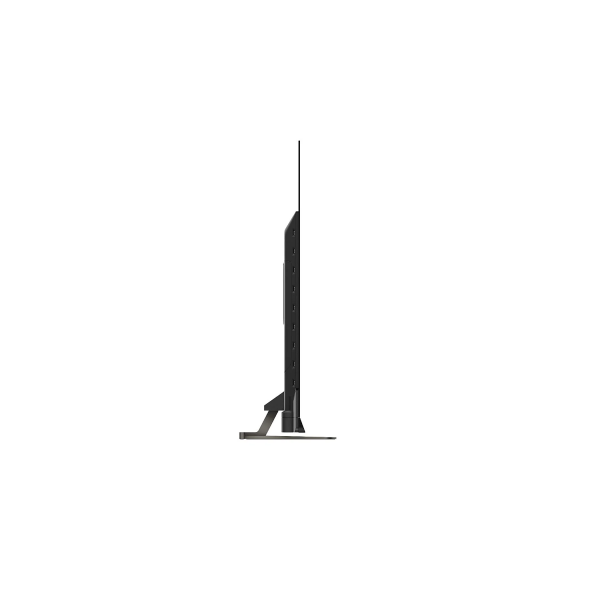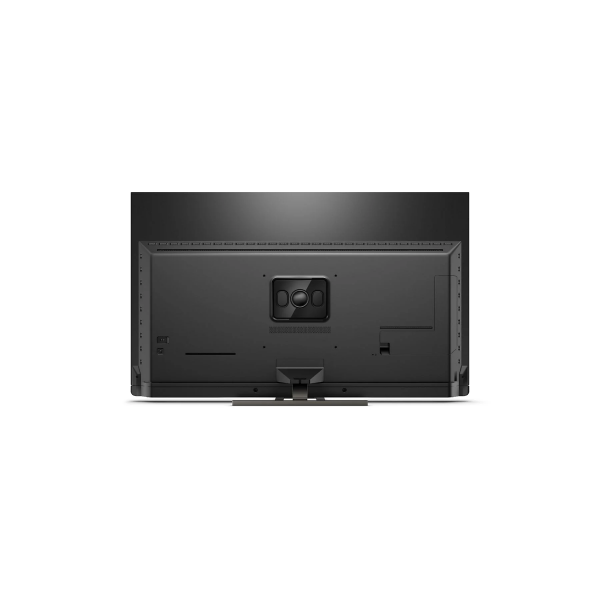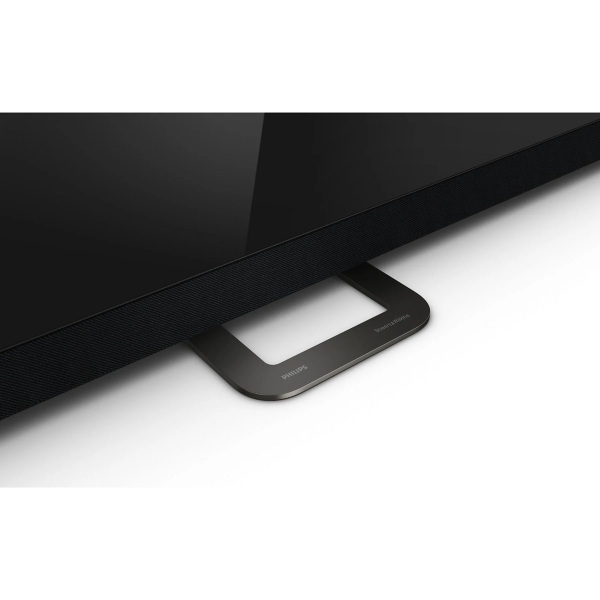 77OLED908/12 4K Ambilight TV-Bowers & Wilkins sound 77inch Philips
77" UHD OLED+ Bowers & Wilkins | ANDROID 12 Google TV | 120hz | Ambilight 3 | P5 AI Intelligent| 80W RMS with backwoofer| Central Stand with swivel 15°| 4 HDMI 2.3 VRR G-Sync compatible FreeSync Premium low latency
Waarom gewoon TV-kijken als je er ook helemaal in op kunt gaan? Met zijn levensechte beeld, het wereldberoemde Bowers & Wilkins-geluid en meeslepende Ambilight trekt onze meest heldere OLED+ TV u mee in uw favoriete werelden. U ziet elk detail, vanuit iedere kijkhoek, zelfs als u in een goed verlichte kamer kijkt.
Next-gen Ambilight
Laat u meeslepen door next-gen Ambilight. De LED's achter het scherm zorgen voor kleurrijk licht dat nu nog gedetailleerder, beter gedefinieerd en meer synchroon loopt met de actie op uw scherm. Bovendien kunt wanneer u geen tv kijkt het scherm toch levendig maken met Aurora. Een collectie foto's en video's, die er geweldig uitzien met Ambilight.

Geluid van Bowers & Wilkins
Een slank, geïntegreerd geluidssysteem van het gerespecteerde Britse audiomerk Bowers & Wilkins creëert een extra breed en indrukwekkend geluidsbeeld. Negen naar voren gerichte drivers en een speciaal middenkanaal sturen gedetailleerd geluid met duidelijke dialogen rechtstreeks naar u toe. Een subwoofer aan de achterkant zorgt voor een diepe, nauwkeurige bas.

P5 AI Perfect Picture Engine
De Philips P5-processor met AI levert levensecht beeld dat u het gevoel geeft er zelf bij te zijn. Een AI-algoritme op basis van deep learning verwerkt beelden zoals het menselijk brein dat ook ongeveer doet. Wat u ook kijkt, u geniet van levensechte details en contrasten, rijke kleuren en vloeiende bewegingen.
Philips OLED TV
Dankzij de bredere kijkhoek en ons helderste beeld tot nu toe ziet u elk detail, in de schaduw of in het licht. Zwart is verbluffend en er zijn geen uitgebleekte kleuren of reflecties: enkel indrukwekkend veel details. Als u in een sterk verlichte kamer kijkt, past onze P5-processor automatisch de helderheid aan zodat u altijd de beste ervaring hebt.
Premium ontwerp
Het vrijwel randloze scherm en de compacte metalen voet maken het eenvoudig om deze OLED+ TV een aanvulling op uw interieur te laten zijn. De slanke afstandsbediening is voorzien van bewegingsgeactiveerde achtergrondverlichting en wordt opgeladen via USB-C. Onze verpakking is van gerecycled karton en papier.
Premium ontwerp
Slanke afstandsbediening met bewegingssensor en USB-C oplaadbaar
IMAX Enhanced
Welkom in Hollywood! Met uw Philips OLED+TV ervaart u beeld en geluid van films zoals die oorspronkelijk zijn gemaakt voor de IMAX-bioscopen. Ga helemaal op in een veel groter gevoel van schaal. Zie meer in elke scène. In combinatie met Ambilight wordt het een filmavond om nooit te vergeten.
Dolby Vision en Dolby Atmos
Met Dolby Vision en Dolby Atmos klinken uw films, programma's en games fantastisch. Zie het beeld zoals de regisseur het u wilde tonen: geen scènes die te donker zijn om iets goed te zien! Hoor elk woord duidelijk. Ervaar geluidseffecten alsof ze echt om u heen gebeuren.
OLED META schermtechnologie
Helder OLED META paneel. TV ondersteunt alle belangrijke HDR-formaten
Aansluitingen
Aantal HDMI-ingangen
4
Aantal USB-poorten
3
CI+ ingang
Ja
Afspeelmogelijkheden
Smart TV
Ja
Smart TV platform
Google TV
Algemeen
Type TV
OLED
Audio
Uitgangsvermogen (totaal)
80
Bediening
Afstandsbediening
Ja
Bedienen met stem
Ja
Koppeling met app
Ja
Smart home platform
Amazon Alexa
Connectiviteit
Bluetooth
Ja
Chromecast
Ja
Wi-Fi
Ja
Energieverbruik
Energieklasse
G
Energieverbruik in HDR-modus per 1000u
143
Energieverbruik in SDR-modus per 1000u
147
Fysieke kenmerken
Diepte
8,5
Diepte (met tafelvoet)
31
Gewicht met voet
43,5
Gewicht zonder voet
38
Hoogte (met tafelvoet)
104,7
Kleur
Zwart
VESA montage
Ja
VESA-standaard
400 x 300
Processor
Processor
Quad core
Scherm
Beelddiagonaal (cm)
194
Beelddiagonaal (inch)
77
Beeldverversing (paneel)
120
HDR-formaten
HLG
Schermresolutie
3840 x 2160 (Ultra HD 4K)
Stroom
Aantal batterijen meegeleverd
2
Batterij meegeleverd
Ja
Batterijtype
AAA
TV-tuners
Ether (DVB-T)
Ja
Ether (DVB-T2)
Ja
Kabel (DVB-C)
Ja
Satelliet (DVB-S2)
Ja